Screenings List for Semester 1, 2020
Wednesday
We run screenings every Wednesday at 6pm in the Engineering Lecture Theatre. We are currently showing the following?series every Wednesday night:
---
Hitori Bocchi's OO Lifestyle (Hitoribocchi no OO Seikatsu)

Many of us know what it is like to transition to a new school with few to no friends in a new environment, going through the arduous process of getting to know people again. Bocchi Hitori knows this struggle all too well, having just graduated from elementary school and thrown into middle school. Unfortunately, she suffers from extreme social anxiety: she faints when overwhelmed, vomits when nervous, and draws up ridiculously convoluted plans to avoid social contact. It does not help that her only friend from elementary school, Kai Yawara, will not be attending the same middle school as Bocchi. However, wanting to help her, Kai severs ties with Bocchi and promises to reconcile with her when she befriends all of her classmates in her new middle school class.
Even though Bocchi has no faith in herself, she is determined to be friends with Kai again. Summoning all of her courage, Bocchi takes on the daunting challenge of making friends with her entire class, starting with the delinquent-looking girl sitting in front of her…
6:00pm/23 min/12 episodes/PG-13 – Teens 13 or older/Comedy, School,?Shounen, Slice of LIfe
---
Kemono Michi: Rise Up! (Hataage! Kemono Michi)*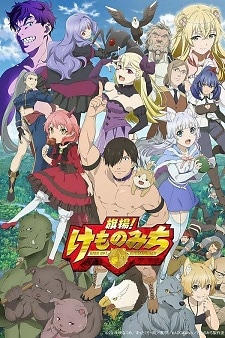 Professional wrestler Genzou Shibata sports the body of a mountain, but beneath his hulking appearance is a man with an extreme affection for animals. Facing off his opponents in the ring as the legendary "Animal Mask," Genzou wins the hearts of crowds everywhere with his iconic tiger persona.
During the bout for the title of World Champion against his greatest rival, the Macadamian Ogre, Genzou is suddenly summoned to a fantasy world by a princess. With her kingdom being threatened by a monster infestation, she pleads the wrestler for assistance—to which he answers by knocking her out with a German suplex! Escaping the castle and finding himself stranded in a mysterious land, Genzou decides to begin his career as a beast hunter to capture and befriend creatures far and wide. Joined by the wolf-girl Shigure, the dragon-girl Hanako, and the vampire Carmilla Vanstein, the professional wrestler pursues all kinds of dangerous requests for the sake of fulfilling his dream as a pet shop owner.
6:25pm/24 min/12 episodes/PG-13 – Teens 13 or older/Comedy,?Fantasy, Shounen
*Madman/Anime-Lab Sponsored Screening
---
Release the Spyce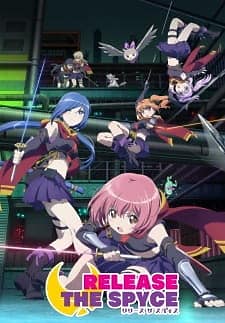 Momo Minamoto is a shy teenager who simply wants to do good in the world. Her dream is to follow in her police officer father's footsteps and support law and order. And just like him, she has a very unique ability: her senses are much more refined than those of any average person. A simple lick will enable her to determine what someone is feeling.
One night, as she admires the landscape, Momo sees suspicious shades moving in the distance. After learning that those shades were spies, she is recruited by their captain Yuki Hanzoumon, a senior at her school. The members of their secret agency, called the Tsukikage, also have the power to gain strength after ingesting spices.
Release the Spyce is an action-packed spy series about the Tsukikage's missions as they fight in the shadows to protect the city from crime while keeping up with their high school life.
6:50pm/24 min/12 episodes/PG-13 – Teens 13 or older/Action,?School
---
Stars Align (Hoshiai no Sora)*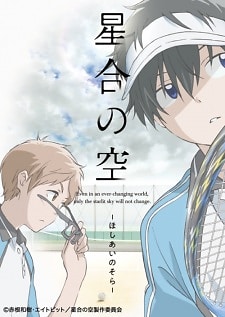 Constantly outperformed by the girls' club, the boys' soft tennis club faces disbandment due to their poor skills and lack of positive results in matches. In desperate need of members, Toma Shinjou is looking to recruit capable players, but he fails to scout anyone. Enter Maki Katsuragi, a new transfer student who demonstrates great reflexes when he catches a stray cat in his classroom, instantly capturing Toma's attention. With his interest piqued, Toma ambitiously asks Maki to join the boys' team but is quickly rejected, as Maki doesn't wish to join any clubs. Toma refuses to back down and ends up persuading Maki—only under the condition that Toma will pay him for his participation and cover other club expenses.
As Maki joins the team, his incredible form and quick learning allow him to immediately outshine the rest of the team. Although this gives rise to conflict among the boys, Maki challenges and pushes his fellow team members to not only keep up with his seemingly natural talent, but also drive them to devote themselves to the game they once neglected.
This story focuses on the potential of the boys' soft tennis club and their discovery of their own capability, while also enduring personal hardships and dealing with the darker side of growing up in middle school.
7:15pm/24 min/12 episodes/PG-13 – Teens 13 or older/Slice of Life, Sports, Drama, School
*Madman/Anime-Lab Sponsored Screening
---
Demon Slayer (Kimetsu no Yaiba)*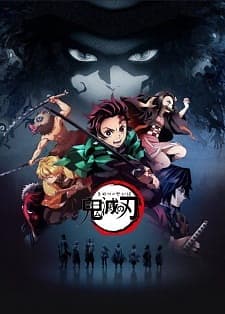 Ever since the death of his father, the burden of supporting the family has fallen upon Tanjirou Kamado's shoulders. Though living impoverished on a remote mountain, the Kamado family are able to enjoy a relatively peaceful and happy life. One day, Tanjirou decides to go down to the local village to make a little money selling charcoal. On his way back, night falls, forcing Tanjirou to take shelter in the house of a strange man, who warns him of the existence of flesh-eating demons that lurk in the woods at night.
When he finally arrives back home the next day, he is met with a horrifying sight—his whole family has been slaughtered. Worse still, the sole survivor is his sister Nezuko, who has been turned into a bloodthirsty demon. Consumed by rage and hatred, Tanjirou swears to avenge his family and stay by his only remaining sibling. Alongside the mysterious group calling themselves the Demon Slayer Corps, Tanjirou will do whatever it takes to slay the demons and protect the remnants of his beloved sister's humanity.
7:40pm/24 min/26 episodes/R – 17+ (violence & profanity)/Action, Demons, Historical, Shounen, Supernatural
*Madman/Anime-Lab Sponsored Screening
---
Friday
We run screenings every Friday from 5pm in the?Copeland Lecture Theatre. We're currently showing the following?series every Friday night:
---
Afterschool Dice Club (Houkago Saikoro Club)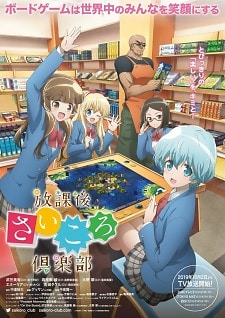 Miki Takekasa is an introverted high schooler who does not socialize with her classmates. However, she wants to know what "fun" really is, waiting for someone who could help her understand its true meaning. One day after school, she crosses paths with her classmate Aya Takayashiki, who takes her on a little adventure. Miki discovers wonders she had never seen before, opening a way to change her withdrawn life.
On their way home, Miki and Aya see their class representative Midori Oono entering Saikoro Club, a store specializing in board games. After trying out a German board game, Miki soon understands the kind of fun she had been looking for: playing various games after school along with the friends and acquaintances she makes from her newfound pleasure.
5:00pm/23 min/12 episodes/PG-13 – Teens 13 or older/Game, Comedy, School, Shounen
---
Mob Psycho 100*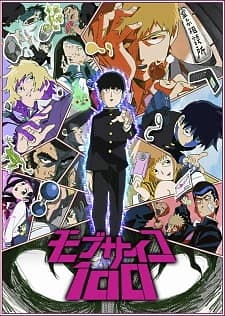 Eighth-grader Shigeo "Mob" Kageyama has tapped into his inner wellspring of psychic prowess at a young age. But the power quickly proves to be a liability when he realizes the potential danger in his skills. Choosing to suppress his power, Mob's only present use for his ability is to impress his longtime crush, Tsubomi, who soon grows bored of the same tricks.
In order to effectuate control on his skills, Mob enlists himself under the wing of Arataka Reigen, a con artist claiming to be a psychic, who exploits Mob's powers for pocket change. Now, exorcising evil spirits on command has become a part of Mob's daily, monotonous life. However, the psychic energy he exerts is barely the tip of the iceberg; if his vast potential and unrestrained emotions run berserk, a cataclysmic event that would render him completely unrecognizable will be triggered. The progression toward Mob's explosion is rising and attempting to stop it is futile.
5:25pm/24 min/12 episodes/PG-13 – Teens 13 or older/Action, Slice of Life, Comedy, Supernatural
*Madman/Anime-Lab Sponsored Screening
---
Didn't I Say to Make My Abilities Average in the Next Life?! (Watashi, Nouryoku wa Heikinchi de tte Itta yo ne!)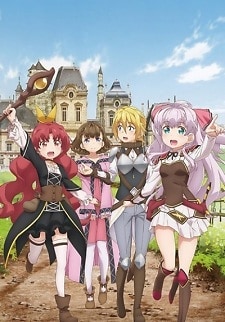 Having stood out from others most of her life due to her exceptional character, Misato Kurihara has lived without neither the joy of having close friends nor the experience of having a regular life. However, after a sudden death, she was transported to a divine realm to be reincarnated—and granted one wish to top it off. Thinking about the ordinary life that she had always wanted, she wished to be born as a normal person, with abilities that are average for the world she will resurrect in.
Reborn as Adele von Ascham—the daughter of a noble—she possesses magic powers completely exceeding what one would label average. Still desiring to carry out the life she wanted, she leaves her home and enrolls at a hunter school in a faraway kingdom using "Mile" as an alias. However, try as she might to hide her overpowering potential, attaining her goal will be difficult—especially when facing against the crazy situations that ensue!
5:50pm/23 min/12 episodes/No rating/Comedy, Fantasy
---
Skull-face Bookseller Honda-san (Gaikotsu Shotenin Honda-san)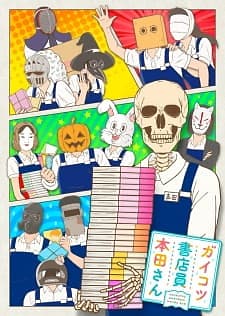 Honda is a skeleton, but more importantly, he is a bookseller. And he'll tell you from firsthand experience that the job of a bookstore employee is more challenging than it may seem to the average customer.
Alongside his equally eccentric coworkers, Honda constantly deals with the stressful requirements of the bookselling industry. From the drama of receiving new titles without their bonus material to the struggle of providing quality service to customers who speak a different language, the work of a skeleton bookseller never ends.
Nevertheless, despite the hardships he faces, Honda thoroughly enjoys his job and strives to bring the best book selections and service to his customers.
6:15pm/11 min/12 episodes/PG-13 – Teens 13 or older/Comedy,?Slice of Life
---
Ascendance of a Bookworm (Honzuki no Gekokujou)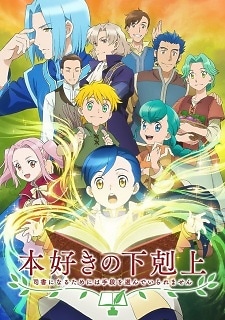 Urano Motosu loves books and has an endless desire to read literature, no matter the subject. She almost fulfills her dream job of becoming a librarian before her life is ended in an accident. As she draws her last breath, she wishes to be able to read more books in her next life.
As if fate was listening to her prayer, she wakes up reincarnated as Myne—a frail five-year-old girl living in a medieval era. What immediately comes to her mind is her passion. She tries to find something to read, only to become frustrated by the lack of books at her disposal.
Without the printing press, books have to be written and copied by hand, making them very expensive; as such, only a few nobles can afford them—but this won't stop Myne. She will prove that her will to read is unbreakable, and if there are no books around, she will make them herself!
6:25pm/23 min/14 episodes/PG-13 – Teens 13 or older/Slice of Life, Fantasy
---
Astra Lost in Space (Kanata no Astra)*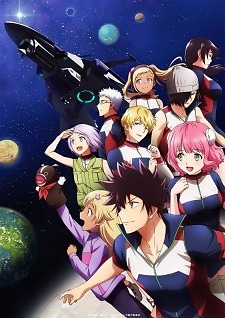 In the year 2063, space travel is feasible and commercially available. As the cheerful Aries Spring arrives at the spaceport to attend a camp on the distant planet McPa, her purse is suddenly snatched by a reckless thief. Luckily, the athletic Kanata Hoshijima is able to retrieve it for her, and Aries soon discovers that he is among the group of teenagers who will be travelling with her on the excursion as team B-5.
Upon arriving at their campsite, the group's trip takes a turn for the worse when a strange sphere of black light sucks them into the vast reaches of outer space. Stranded with seemingly no hope, they find an abandoned ship nearby that provides them with the means to return home. However, they soon discover that they are not as close to their campsite as they initially thought, but are in fact thousands of light-years away from home.
With this realization, the nine members must cautiously manage their resources, maintain their strength, and unite as one to conquer the darkness of space together. While the reason behind their trip's sudden obstruction remains unknown, they nevertheless embark on the treacherous voyage back home aboard their new ship, the Astra.
6:50pm/24 min/12 episodes/PG-13 – Teens 13 or older/Sci-fi, Adventure, Space, Shounen
*Madman/Anime-Lab Sponsored Screening
---
Fire Force (Enen no Shouboutai)*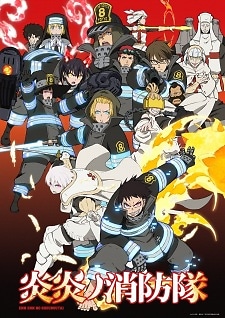 Spontaneous Human Combustion: a chaotic phenomenon that has plagued humanity for years, randomly transforming ordinary people into flaming, violent creatures known as Infernals. While Infernals make up the first-generation accounts of Human Combustion, the second and third generations became known as pyrokinetics—people gifted with the ability to manipulate and control their flames while remaining human. To combat the Infernal threat and discover the cause, the Tokyo Armed Forces, Fire Defense Agency, and Holy Church of Sol produced their answer: the Special Fire Force.
Young and eager third-generation pyrokinetic Shinra Kusakabe, nicknamed Devil's Footprints for his explosive ability to ignite his feet at will, becomes a member of the lively Special Fire Force Company 8. Upholding the brigade's duty to extinguish the blazing Infernals and lay their souls to rest, Shinra is determined to become a hero who will save the lives of those threatened by the flame terror.
However, this is not the hero's game Shinra imagined. The Fire Force is a fractured mess of feuding brigades, abnormal Infernal sightings are increasing all over Tokyo, and a shadowy group is claiming to have answers to the strange fire that caused the death of Shinra's family 12 years ago. Faced with many obstacles within and outside the Fire Force, Shinra fights to uncover the truth behind the burning mysteries that have kept him in the dark.
7:15pm/23 min/24 episodes/PG-13 – Teens 13 or older/Action, Supernatural, Shounen
*Madman/Anime-Lab Sponsored Screening
---
(All synopses and episode lengths and counts from MyAnimeList, ratings from MyAnimeList /aniDB, images from Google Images. Content ratings are unofficial and a guide only, and do not correspond?directly with the Australian classification?system.)